The event: 140.6INN
Tradeinn International Triathlon was born in mid 2020 as an ambitious project with a very clear objective: To give the opportunity to more than 7 million Tradeinn customers to enjoy doing what they love in the best place in the world to do it: The province of Girona and especially the Costa Brava.

The potential of the 140.6inn quickly caught the attention of triathletes from all over the world. So much so that in the first edition, in a context of pandemic, the number of registered triathletes exceeded 1000, with world-class triathletes. Tradeinn International Triathlon 2021 was the first long-distance triathlon to be held in Europe since 2019 and we managed to give back to long-distance enthusiasts what Covid-19 had taken away from them.

With the experience of 2021 and renewed enthusiasm, in May 2022 we finally managed to hold an event without any restrictions, with a fair with more than 30 stands, with activities throughout the weekend and with 600 triathletes at the start line. 140.6inn 2022 was undoubtedly the confirmation that Girona has a world-class event.

Thanks to the success of the first two editions, Tradeinn International Triathlon continues to grow and is committed to becoming a world reference event: In 2023 we will have 4 competitions!

In order to reach more athletes and make our privileged territory even better known, we have added the Half Distance and the Gravel Triathlon to the event, which will have two distances.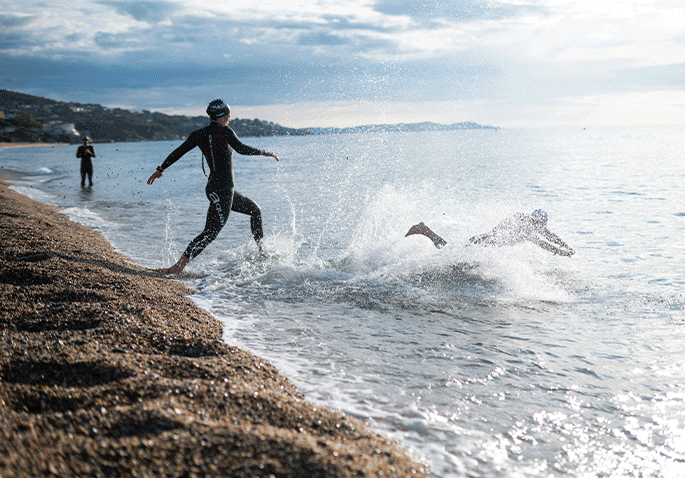 The environment: Girona
The province of Girona, where the best professional triathletes in the world train and live, is the ideal environment for the practice of any outdoor sport. Its quiet and varied roads, its landscapes, its endless paths for running or hiking and the calm waters of the Mediterranean are waiting to welcome you in your challenge.
About us: Tradeinn
Tradeinn is the international ecommerce specialist in sport with the best brands in the world. It is undoubtedly the benchmark portal for triathlon lovers. Our location in the province of Girona, our logistics capabilities and our passion for sport encouraged us to venture into this unprecedented project.

We look forward to seeing you all on 13 and 14 May at what will be one of the biggest triathlon festivals in Europe!